---
---
NWFC - World Class Fencing Instruction
Northwest Fencing Center (NWFC) is a non-profit fencing training facility renowned for providing affordable fencing lessons and personalized instruction for athletes of all ages. NWFC began as a group of dedicated fencing athletes and has grown to become a pioneer in the Olympic sport of fencing in Oregon. NWFC is a cutting-edge international training and competition hub, with a reputation for quality instruction, committed coaches, and a stellar training facility.
NWFC specializes in the techniques of foil and epee, with a strong focus on the core foundations of fencing, including coordination, agility, and stance. Our accredited coaches are dedicated to providing a supportive, inspiring, and fun atmosphere to foster a love of the sport and the growth of the athlete, both on the strip and off.
At NWFC, we are a community of friends, colleagues, and athletes committed to providing the best possible instruction for you or your athlete in an encouraging, yet challenging environment. Read more about the Benefits of Fencing.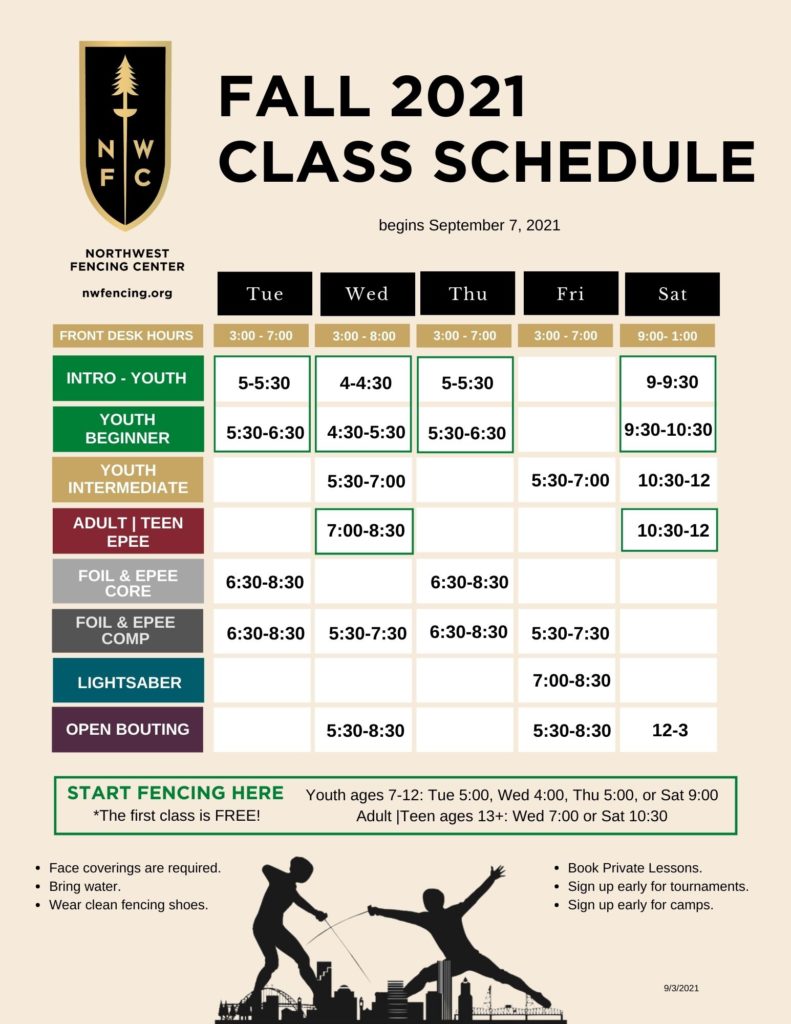 Important Updates:

This year NWFC has an exciting opportunity to have up to $8,000 in gifts made to our financial aid program matched by a generous donor! We can add $16,000 or more to our scholarship fund. Read more HERE.
-NOW NWFC is collecting toys for the KGW Toy Drive
-12/21 Annual Pie Contest and Alumni Reunion 
-12/23-25 Closed for Christmas
-12/27-31 Winter Camp
-1/1/2022 No classes
Fencers please choose a class during the week to make up your class, or attend OPEN BOUTING. 
2021 Foil & Epee Winter Camp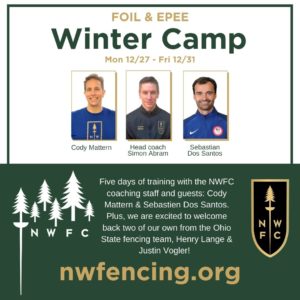 We are so excited to announce Winter Camp! Join us for 5 full days of training with the NWFC coaching staff and guests: Cody Mattern and Sebastien Dos Santos. Plus, we are excited to welcome back our own from the Ohio State fencing team, Henry Lange and Justin Vogler! And Rose Parker and Olivia Barnes from the Vassar fencing team! Saturday, attendees can compete in the New Years Open Tournament (sign up on AskFred), to compete for a 2022 rating!
This camp is ideal for the committed fencer with experience from our Youth Intermediate classes and up. If you are not sure if the camp is for you, ask your coach.
Read more HERE
Lightsaber Camp is back! Read all about them HERE.
The countdown has begun! Read about our infamous SYC and register HERE.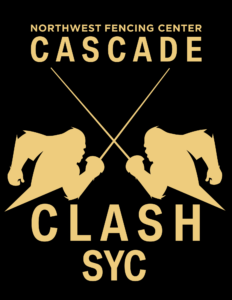 IMPORTANT DETAILS: 
You must become a member to join a group class or take Private Lessons.
Each class will have appropriate level warm up drills and agility work.
Face coverings are required.
We have developed a schedule for small classes. The classes focus on the safety of our members, parents, and coaches. Read about our Covid-19 safety updates HERE
Membership is now a rolling membership and will be renewed every 12 months, (previously the membership was Sept-August).  Read all about Membership options HERE.
---
Subscribe to our newsletters
Get info on upcoming tournaments, deadlines, camps and other events right to your mailbox