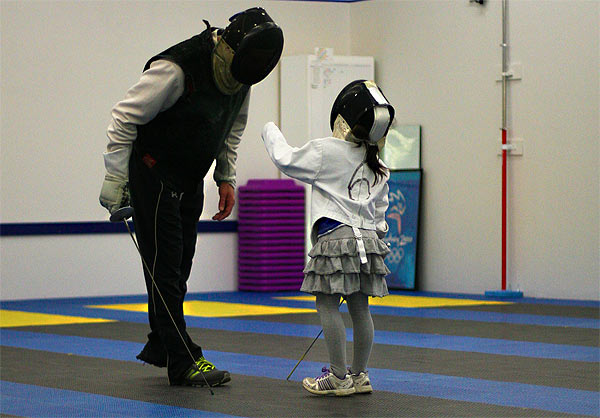 Private Lessons
Lessons are for NWFC Members or camp attendees only and must be scheduled in advance.  Upon registering, you will receive an email with login credentials from the lesson schedule system.  If you have any questions please contact the front desk at front.desk@nwfencing.org or 503-277-2237.
Learning to fence is like learning to play a musical instrument. A student isn't going to figure out how to play the piano competently or learn it efficiently without private instruction. Fencing is the same; fencing is like being able to improvise on a musical instrument without sheet music. The time spent one on one with a coach is some of the most valuable time a fencer will spend. The coach will guide their learning and help them discover who they are as a fencer - possibly even as a person! For more info from our Coach Michael McTigue about lessons, please read: BLOG - How do I get good at this?
Who should take lessons?
The biggest mistake is the assumption, "The fencer isn't good enough yet for private lessons." What is often meant by parents is, "I want to wait to see if they are fully engaged before we commit." While understandable, there is nothing like feeling a sense of accomplishment for developing engagement, and a student will become more accomplished much more quickly with the custom-tailored instruction of a consistent one-on-one lesson schedule.
How to sign up for lessons?
Private lessons are by appointment only and must be made online using the lessons scheduler found at the Member Hub. Lessons are for NWFC Members, and upon joining, you will receive an email with login credentials from the lesson scheduler as this is where all lessons and coach conferences are reserved. If you have any questions, please stop by the front desk or email: front.desk@nwfencing.org.
2020 Lesson Program
COVID-19 Effective 6/5/2020
• All private lessons are 20-minutes.
• Lesson costs:
Simon | Cody $ 40.00
Vince | Michael $ 35.00


• All fencers must be not only on-time but warmed-up 15 minutes in advance of their lesson start time. Lessons begun late will still end on time as to not disrupt the next reserved lesson.

What are lesson cancellation policies?
Lessons must be canceled by midnight the night before the experience, or the lesson will still apply. If a fencer has a permanent lesson slot not canceled by midnight the night before twice in one month, the permanent lesson slot will be forfeited.
What about new fencers?
The coaches are serious about the impact a one on one lesson can have for every fencer. New students (Youth One & Adult/Teen Epee) are offered a complimentary lesson within their first thirty days of class. Youth One requires the scheduling and completion of this lesson before competing in a tournament and the final exam.
What is a Coach Conference?
Twice a year (mid-season and post-season), fencers enrolled in classes should schedule time with their coach to review progress and to set future training and competition goals. These sessions are 20-minutes long and reserved in existing lesson slots, but there is no charge for the two annual sessions.