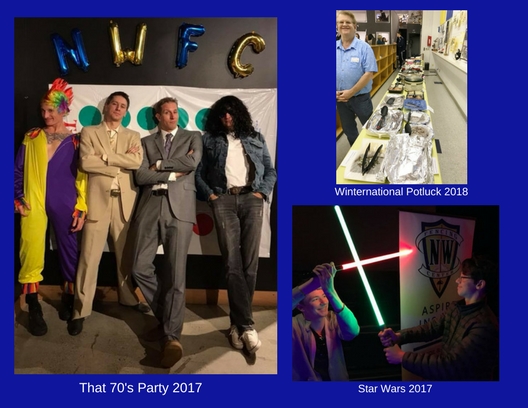 ---
Volunteer at NWFC
Please sign up in advance below or contact: front.desk@nwfencing.org.
Current Volunteer Help Needs:
FAMILY EXPO
March 30, 2018, 6-7pm:  Help Vince demo fencing at this family event!
Can you donate a household item?
WASHING MACHINE
REFRIGERATOR
We are looking to update the above items with some gently used donated items.  Please contact the front desk.
Ongoing Opportunities
CAMP HOUSING
The fencing community is a tight knit group of people that often depend on each other to off-set the costs of our sport. One way we can support our community is to welcome fencers into our homes for camps and competitions.
This help is vital to reducing the hotel and restaurant costs that dramatically increase the burden on many fencers ability to afford attending events like our Pre-national camps and International Foil/Epee camps. Also, the ability to offer out-of-town fencers such cost-effective lodging brings in better quality fencers into our club, improving the quality and viability of our camps.
The friendships and "esprit de corps" that grows between these fencers carries over to the tournaments they attend, where they support each other and build lifetime relationships.
Camp housing cost is $35/night x # of nights paid directly by the guest fencer upon arrival. As a host family, you provide daily breakfast and dinner, transportation to/from airport and ride to/from the club during camp. We hope you will consider joining us in our efforts to provide this valuable amenity to our fencing community.
BOARD OF DIRECTORS/COMMITTEES
If you are interested in serving on the board or one of the organization's vital committees, please contact Larry Crepeaux, Executive Director or Charlene Welch, President.
---
Volunteer at NWFC
NWFC is a non-profit and committed to keep training costs as low as possible. Volunteers help NWFC operating efficiently by assisting in many areas. Volunteers help run tournaments, host fencing demonstrations, special events, fundraising and even keeping the club neat and clean.
When you volunteer at NWFC you will learn more about fencing, meet other members of the community, help develop the sport of fencing, and gain a sense of investment in the club. We encourage all members of the NWFC community to volunteer, whether they are athletes, parents, or friends.
How can I volunteer at NWFC?
Check this page often and watch for special announcements the club emails.
Volunteer Hours & Matching
Hours tracking is also very important middle/high school volunteers and adults whose companies match donations are all vital to the success of the club.
Some companies will match volunteer hours with a direct donation to the club. Please check if your employer will match volunteer hours and be sure to note this when you sign-up. We will send you an email reminder to log your hours with your employer.
Thank You!
NWFC would not be the club it is today without the untold hours of service by hundreds of volunteers. If you have any questions, please stop by the front desk or contact us at front.desk@nwfencing.org or 503-277-2237.